Mac Miller Dead at 26
Prolific rapper who underwent artistic reinvention dies from apparent drug overdose at Los Angeles home
"Malcolm McCormick, known and adored by fans as Mac Miller, has tragically passed away at the age of 26," his family said in a statement. "He was a bright light in this world for his family, friends and fans. Thank you for your prayers. Please respect our privacy. There are no further details as to the cause of his death at this time."
The County of Los Angeles medical examiner said in a statement Friday, "In the late morning of Sept. 7, Malcolm McCormick (dob 1/19/92) was found unresponsive in his home located in the 11600 block of Valleycrest Drive in Studio City. Authorities were called and Miller was pronounced dead at the scene at 11:51 a.m. At this time, an autopsy is pending and a cause of death has not been determined."
While initially counted as a member of the frat-rap genre of the early 2010s, Miller's career was defined by a refusal to fit in an artistic box. He transitioned from party rap to heady backpacker lyricism to jazz-inflected songwriting in his final two albums. To do so, he often turned away from guaranteed commercial success in favor of experimentation and craftsmanship in his work.
Miller, whose real name is Malcolm McCormick, had publicly struggled with substance abuse throughout his career, and had a well-publicized DUI arrest in May of this year. Miller had been open about his addiction issues in the past, and had discussed his dependence on lean — a combination of codeine and promethazine — extensively. After a years-long period of sobriety, he began to drink again. According to tweets from his ex-girlfriend Ariana Grande, his substance abuse was a reason the pair broke up after two years.  "I am not a babysitter or a mother and no woman should feel that they need to be," she wrote. "I have cared for him and tried to support his sobriety and prayed for his balance for years (and always will of course)."
Miller was born in Pittsburgh in 1992, and first broke onto the hip-hop scene when he began rapping at 14 under the alias EZ Mac. He quickly racked up an enormous following as a good-natured, preternaturally talented wordsmith while still in his teens, releasing a series of mixtapes.
By 2010, he'd ditched the moniker for the simpler Mac Miller, and signed with Rostrum Records, the label of fellow Pittsburgh rapper Wiz Khalifa, whose career was burgeoning at the time. Miller found wild success in the era of hip-hop blogs as a rapper that catered to fans in his direct demographic: young, and looking to have fun. Among his earliest hits was "Donald Trump," a light-hearted song that would lead to a feud between Miller and the now-President. That song would be followed by Blue Slide Park, Miller's 2011 debut album named after Frick Park in Pittsburgh. The album was a commercial smash, receiving disappointing reviews but debuting at Number One on the Billboard charts.
16 wild denim designs that went viral and baffled the internet
In the past year or so, denim has evolved beyond the categories we all know and love.
In place of the boot-cut, skinny, and distressed, the fashion world has spawned some impressively inventive, and baffling, looks.
There was the denim jacket that would only fit Slenderman; there was the one that would swallow you whole. There were jeans for flaunting your butt cheeks and jeans for flaunting your butt crack. There were upside-down shorts and detachable jean legs; denim bustiers and denim thongs.
Below, check out 16 of the wildest denim designs that have left people scratching their heads.
People had a lot to say about these jeans with transparent plastic panels.
In March 2017, the internet was divided over this $95 pair of jeans from Topshop . Featuring large, plastic-covered cutouts over both knees, the pants had some reaching for their wallets and others tweeting in disbelief .
Sadly, if you're hoping to draw people's attention to your knees, look elsewhere. This pair is currently sold out everywhere.
Shoppers were not particularly happy about these $425 faux-muddy jeans.
Designed to " embody rugged, Americana workwear ," these PRPS pants were ridiculed online in April 2017 after people spotted them on Nordstrom's website. While the jeans have sold out by now, you can easily replicate the look for less by going outside on a rainy day in boot-cut jeans and rolling around in dirt.
This denim look had some scratching their heads.
Many loved these jeans that zip all the way from front to back.
The internet had a field day over this pair of jeans with a uniquely placed cutout.
From the front, these high-waisted pants by ASOS look completely normal, uneventful even. But turn around, and you may end up flaunting your butt crack for the world to see, thanks to the open-back design.
The jeans, which went viral last August, are on sale for $21 right now , for anyone who, as Sia might say, loves cheap thrills.
Shoppers were baffled by this denim-on-denim pièce de résistance.
This layered jean look left us speechless.
There's so much going on here. All you really need to know is that these $695 jeans byNatasha Zinko sold out shortly after people spotted them online in fall 2017.
Some were disturbed by this denim jacket with extra-long sleeves.
You could spend a lifetime rolling up the sleeves of this $695 jacket . When the Y/Project design went viral last fall , some online joked that it would be perfect for Slenderman , the faceless spawn of a creepy internet meme.
People couldn't take this denim bustier T-shirt seriously.
Many thought this jacket was Photoshopped, but it turned out to be just truly gigantic.
Shoppers had a lot of questions about this pair of lace-up jeans.
This butt-revealing design raised some eyebrows.
We were at a loss for words after seeing these mesh panel jeans.
Originally $590 , this Bless piece was available at Opening Ceremony for the low price of $236 before selling out in June. But the photos of this look, with its giant see-through mesh panel and folded fly design, still remain.
People actually seemed excited by these upside-down shorts.
This garment took layers to a whole new level.
Cardi B Says 'It's Beautiful How Fast Mother Instinct Kicks In': Kulture 'Melts Me Like Butter'
Cardi B is enjoying the first few weeks of motherhood — challenges and all.
The "I Like It" rapper, 25, tweeted Sunday about her life-changing experiences since she and Migos' Offset welcomed their first child together, daughter Kulture Kiari, on July 10.
"Really hard to explain," Cardi B responded to a fan who asked how it felt to be a mom. "It's beautiful how fast mother instinct kicks in … never wanna leave my baby side."
In another tweet, the new mom perfectly summed up the emotional balanceof having a newborn for the first time. "Kulture is not Kulture today she Kiari with the mood 😩," Cardi B wrote (notably, Kiari is Offset's given first name). "But o maaann i love my sweet sweet baby ❤️She melts me like butter."
Denzel Washington's ED Cure Has Experts In
Awe & Big Pharma Is Terrified

by Rafael Paschito, ARP, Jul 24, 2018
(ARP) – Denzel Washington has made his name in Hollywood as a star who isn't afraid to speak his
mind. However his latest gambit has industry sponsors seething. Denzel Washington caused a
frenzy last week when he and Dr. Phil unveiled their new Erectile Dysfunction cure on his show. "Dr. Phil and I have done our research, spoken to specialists and industry insiders." Denzel
Washington said when he appeared on the Dr. Phil's Show. "And they helped us create this product
Climadex And boy can I tell you, this stuff is potent. I've tried Viagra, I've tried Red Ginseng, I've
tried Cialis. Climadex blows them all away."
The product is repeatedly selling out within minutes and Denzel Washington says his number one
struggle as CEO is sourcing enough products to be able to adequately service the demand. His
men's health line is 90% cheaper and five times more effective than others on the market.
Male Enhancement Titans, Cialis and Viagra, were furious, calling for his apology and calling on
studios to drop him from their projects. If those companies thought Denzel Washington was going to
back down, they clearly didn't know him. He appeared again on Dr. Phil the next day, not to resign,
but to offer viewers free samples.
"I won't let anyone intimidate me." He fired back during his appearance. "I am so confident in the
product Dr. Phil and I have created that I am offering free samples to our viewers. Climadex is the
product of thousands of hours of research and development. I wouldn't talk about something on air I
don't believe in and have tried myself."
Denzel Washington' words coupled with online reports of amazing results got us here at ARP
curious about Climadex so we did some research — here's what we found.
Is Climadex Right For You?
The short answer is Yes. Climadex is an all natural solution for any man with ED. This product is
unlike anything else on the market; it has TRTT technology that has been researched and tested on
thousands of men experiencing erectile dysfunction with amazing and powerful results.
One thing people on both sides can agree on is that this new supplement drastically works.
According to a new study from researchers, men who took Climadex for 2 weeks experienced
increased libido, stamina, endurance, and energy with their partners reporting increased satisfaction
in their sex life. On average men taking Climadex were able to perform twice as long as men in the
control group.
In fact, not only were they able to perform better and longer but the men taking Climadex also
reported increased satisfaction and overall confidence.
Climadex Is Proven To:
NFL Rumors: Bill Belichick, Donald Trump Recently Chatted — About Tom Brady?
by NESN Staff on Thu, May 3, 2018 at 10:58AMThe president of the United States has a lot on his plate right now, but even he couldn't resist trying to get the inside scoop on the New England Patriots' offseason drama. In a New York Times article Wednesday about chief of staff John Kelly, it was revealed Donald Trump and Patriots head coach Bill Belichick talked last week. Perhaps unsurprisingly, they talked about quarterback Tom Brady, according to the Times. From the story: "Mr. Kelly, for his part, is sanguine about how little control he has over how the president chooses to spend his time. At a breakfast event last week for Senator Tom Cotton, Republican of Arkansas, Mr. Kelly marveled that Mr. Trump had spent a long time the day before on the phone with Bill Belichick, the New England Patriots coach, talking about the status of Tom Brady, the star quarterback, according to two people familiar with his remarks, one of whom was present." It would be great to have a little more context about that conversation, which seems to have happened right around the time Brady officially declared — through his agent — that he'd be back for the 2018 season. It's also wild to think about the president of the United States taking time out of his busy schedule — and Belichick doing the same in the midst of draft preparation — just to chit-chat. As we've seen in the past, Trump and Belichick are friendly. The Patriots coach wrote a letter to Trump on the eve of the 2016 election, lauding the eventual winner for his ability to "come out beautifully" despite what Belichick apparently called the "unbelievable, slanted and negative media." The president fancies himself a master negotiator; perhaps he can bring Belichick and Brady (another pal of Trump) together to end their reported rift.
There's Nothing "Regular, Shmegular" About Cardi B's Maternity Style
Cardi B confirmed she was pregnant during a performance on Saturday Night Live after she appeared in a formfitting, white Christian Siriano dress, and, since then, the 25-year-old star has been embracing her baby bump. She's skipped curve-hugging clothing, opting instead for flowy pieces with details that pack a punch.
Throughout her pregnancy, the "Bodak Yellow" rapper continues to rock typically fun pieces, like the minidress with a super-poufy tulle skirt she wore to the iHeartRadio Music Awards, the sexy black dress and cropped trench coat she rocked during New York Fashion Week, and her Fashion Nova pieces, too.
Former President Bush out of intensive care, making progress
By MICHAEL GRACZYK, Associated Press 4 hrs ago Open in app
© The Associated Press Former Presidents George W. Bush, left, and George H.W. Bush arrive at St. Martin's Episcopal Church for a funeral service for former first lady Barbara Bush, Saturday, April 21, 2018, in Houston. (AP Photo/David J. Phillip )
HOUSTON — Former President George H.W. Bush was moved out of intensive care and into a regular patient room at a Houston hospital on Wednesday as he recovers from an infection that required his hospitalization a day after his wife's funeral, a family spokesman said.
The nation's 41st president is expected to remain at Houston Methodist Hospital for "several more days," spokesman Jim McGrath said. Bush, who is 93, is being treated for an infection that spread to his blood.
"He is alert and talking with hospital staff, family and friends, and his doctors are very pleased with his progress," McGrath said in a statement.
He noted that Bush was more focused on the Houston Rockets playoff series against the Minnesota Timberwolves "than anything that landed him in the hospital." Bush, frequently accompanied by his wife, has long been a fixture at Houston sporting events.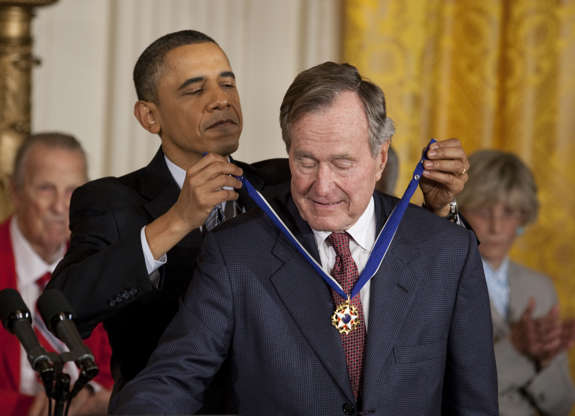 Bush was hospitalized on Sunday, a day after he attended the funeral and burial of his wife, Barbara. Married for 73 years, the Bushes were the longest-married presidential couple in U.S. history. Barbara Bush was 92 when she died on April 17 at their Houston home.
Bush sent a tweet earlier Wednesday thanking Houston for its "professionalism and obvious care" during the memorials and services for his wife . He specifically cited Houston Mayor Sylvester Turner, the city's police and transit agency "and really all Houstonians" for "making Barbara's visitors and funeral guests feel so welcomed."
He also thanked St. Martin's Episcopal Church, where the funeral was held and where he and his wife worshipped for years, and Second Baptist Church, which served as a staging area a few miles away for city buses that carried thousands of visitors to St. Martin's for a public viewing a day before the funeral.
McGrath said the former president is thankful for everyone sending prayers and good wishes
Toni Braxton Confirms her Engagement to Birdman, Shows Off Her Massive New Ring
(ENTERTAINMENT.COM)
The singer revealed her engagement in a teaser trailer for the upcoming season of her reality series 'Braxton Family Values.'
Wedding bells are chiming on the horizon for Toni Braxton and Birdman.
The 50-year-old singer and the 49-year-old rapper are engaged!
Rumors of their engagement began swirling weeks ago when the "Un-Break My Heart" singer was spotted wearing some shiny new hardware on her ring finger. However, Braxton confirmed the news on Facebook on Monday.
Sharing a new teaser for her WE tv reality series Braxton Family Values, the songstress is seen sharing the exciting news with her loved ones.
"I have an announcement to make," she teased her excited family. "I'm engaged!"
The news is seeming welcomed by Braxton's sisters, and the singer also gives fans a look at her new, enormous engagement ring.
Their lives may change, but the sisterhood remains the same. #BFV is back in March!Posted by Braxton Family Values on Saturday, February 17, 2018
Braxton and Birdman (whose real name is Bryan Christopher Williams), began dating in May 2016 and made their first public appearance together at the BET Awards later that year. Braxton was previously married to musician Keri Lewis for 12 years. The couple, who divorced in 2013, share two sons — Denim, 16, and Diezel, 14.
Last year, Braxton admitted that she was "anxious" over her burgeoning relationship with the rapper during an episode of her reality show.
"I haven't been happy in a long time outside of work. Work brings me extreme happiness. When I'm on stage and I'm performing, that's the only time that I get those butterflies and I feel totally happy with my life," she shared. "A romantic relationship? I haven't had time for that — I should say, I chose not to make time for it, but it's right here in front of my face: happiness."
CARDI B ALL-STAR WEEKEND 2018 LIT FINALE
https://www.eventbrite.com/e/ace-of-diamonds-la-w-cardi-b-all-star-weekend-2018-tickets-42812194426
REST IN PEACE "TAYLOR!" a humble soul taken from us too soon!
We lost a Prince by the name of Taylor yesterday 12.7.17
#RIPTAYLOR
#LORPLEASEHEALTAYLOR

Taylor was recently diagnosed with a secondary cancer (MDS) and is now battling aggressive AML Leukemia. He has exhausted all treatment options and is currently in palliative/hospice care.
However, he's been taking a special oil from our friends at PharmaXtracts and has been living his best days! Without the oil, he would not have the chance to live his life on his terms. He has been stable the past few months, only having therapeutic blood and platelet transfusions to help give him energy. Taylor has been fighting cancer for over 4.5 years and will not give up now. Thank you for your prayers and support!
Team Hammond is a foster and adoptive family from Las Vegas, Nevada. We have adopted 6 small special needs children out of foster care over the past 10 years.
One of our superhero sons, Taylor, has been diagnosed with a rare form of leukemia. He is the bravest boy we know. He was hospitalized and received a mix of intensive inpatient and outpatient chemotherapy. We are grateful that he is under the care of one of the top Pediatric Hematologists/Oncologists in the nation.
We have no doubt that he will beat this. He is a tough boy, but as sweet and genuine as only a child can be. He is in good spirits and loves all the well wishes he has received. He hates the pokes and pricks, but loves the popsicles and pudding. He enjoys watching SpongeBob, Wipeout & The Cosby Show. He is currently homeschooled to limit his exposure to germs.
Our friends and family have shown us so much support. We have set up this page to allow all of those who wish to help us during this journey. Every dollar, prayer, well wish, and good thought has not and will not go unnoticed. Every donation is appreciated, no matter how big or small. All donations go to helping offset all related costs of Taylor's care.
We love and appreciate all of you. If you have watched our journey, you know there is a greater good at work in this family. This situation will not stop us. It will make us more determined and solidified to continue the work we have started in our children.
We thank you and Taylor thanks you for your time and generosity. Please feel free to contact us at any time. Follow us on twitter at @Team_Hammond and on FaceBook at www.facebook.com/LordPleaseHealTaylor for our latest updates.
#PRAYFORLASVEGAS
Sheriff Joseph Lombardo of the Las Vegas Metropolitan Police Department releases a timeline of the deadliest mass shooting in U.S. history. USA TODAY
'Thoughts and prayers' is not a platitude and time spent with God is never wasted. But prayer is not an excuse for inaction on guns.
Sen. Chuck Grassley sent out a standard "prayers for victims" tweet after the Las Vegas shooting.
The response was swift — and brutal.
NYCNewbies tweeted: What is your prayer? "I pray the families of those killed don't realize just how complicit I am in the proliferation of mass shootings"?
More: Las Vegas shooting: The gun fight is over and the gun-rights crowd won
More: Navy vet on Vegas shooting: We need gun laws that make us as safe as our military
Peter Jacobson added: Your prayers are not enough! There's no reason for US citizens to own weapons that can cause mass murder. It is insane to think otherwise.
Christie Rosalie: .@ChuckGrassley instead of praying, stop accepting NRA $ and start changing gun laws.
Joseph Papryzcki:  Laws stop this, not prayers.  Do your job.
You get the idea.
Grassley said Wednesday he hadn't seen the Twitter response but cited a Bible verse calling on prayers for all leaders: "First of all, then, I urge that entreaties and prayers, petitions and thanksgivings, be made on behalf of all men, for kings and all who are in authority, so that we may lead a tranquil and quiet life in all godliness and dignity." — 1 Timothy 2, 1-2.
"So you can't denounce anything that involves prayer with government or for people because that's our responsibility to do," Grassley said during his weekly conference call with Iowa reporters.
He also said this: "I take an oath to uphold the Constitution, not an oath to uphold the Bible. So I have to do what the Constitution says. And the Supreme Court's very clear about the right of individuals to have firearms."
I've been watching the backlash rise against the expression of thoughts and prayers for a while now, with more than a little unease. We've seen snarling responses to prayers offered for victims of hurricanes, floods and wildfires along the lines of "get off your knees and donate/volunteer/work to stop climate change."
The assumption is that an offer of prayers is either just a meaningless platitude or it's merely a hypocritical façade for someone who doesn't really care enough to act. That attitude is a self-made trap and it will prove counterproductive to those who care about gun control and other progressive causes.
Grassley was noncommittal about the possibility of any sort of gun control legislation, and that makes me mad. I'm furious that 58 people were killed and more than 500  injured after the shooting in Las Vegas. I'm livid that this keeps happening and nothing is done to prevent the next time.
More: Grassley and Ernst 'frustrated' with Republican leaders
I'm disgusted that the National Rifle Association and its allies have bribed and bamboozled so many elected officials into thinking the Second Amendment precludes restricting the tools of mass murder. I'm offended that our elected leaders, including President Trump and Iowa Gov. Kim Reynolds, keep saying now is not the time to discuss gun regulations. If it's up to them, that time will never come.
But don't tell me not to pray about it. Don't tell Grassley not to pray, either.
Prayer, to me, is not a passive act. Time spent with God — expressing gratitude for his blessings, asking for help, or just quietly listening — is never wasted. I brought regular prayer back into my life just over a decade ago, and it has made an enormous difference. Prayer and God's grace are helping me get through the recent tragedy of a young friend's suicide. It's giving me strength to help support his parents and to work for change in our state.
Prayer is action. It's not an excuse for inaction. I believe if those who offer prayers actually talk to God instead of just tweeting, they may gain greater wisdom and strength to do what's right, not just what's politically expedient.
I realize that many people who post "thoughts and prayers" on social media are really doing neither. I understand the impulse to call them out. Even so, we expect our public officials and neighbors to express concern for those who suffer and would fault them if they were silent.  Even shallow gestures can help attract the attention of people who will actually do something for those in need.
It's foolhardy for those who feel strongly about gun control to convey the message that they are anti-prayer. That is not the intention, perhaps, but that is the perception that pro-gun advocates and politicians will seize upon. They'll say, "Look, these people are attacking your religion. You can't let them win."
It's exactly the same trap that people who care about racial injustice are falling into when they allow the other side to portray them as anti-flag and disrespectful of the national anthem. I choose justice for all and respecting the flag.
To those of you who agree with me that our country needs responsible gun control, I say, don't put God on the other side by attacking prayer. We need all the help we can get.
New season of 'SNL' roars back by mocking Donald Trump early

The new season of "Saturday Night Live" wasted no time getting topical — or mocking Donald Trump — with an opening sketch that featured Alec Baldwin skewering the president for his response to the hurricane that devastated Puerto Rico, threatening Attorney General Jeff Sessions' job and mentioning his stand-off with the NFL.
"It's all part of the plan. The more chaos I cause, the less people can focus," Baldwin joked as Trump, wearing golf clothes in the Oval Office. "Let's keep the chaos coming."
In the sketch, Baldwin's Trump was unclear that Puerto Rico was an American territory, hung up on the mayor of San Juan, put Sessions playfully on his lap and admitted he liked football. "People say I remind them of an NFL player because I'm combative, I like to win and I might have a degenerative brain disease," Baldwin said. His Trump said he rewards loyalty but then ends the sketch palling around with U.S. Senate Minority Leader Charles E. Schumer.
How Selena Gomez's lupus led to a kidney transplant
On Thursday, the actress/singer/producer, 25, went public with the news that she received a kidney transplant from friend Francia Raisa.
So what is lupus and how did it cause her to need a kidney transplant?
Lupus is often misdiagnosed because its symptoms can masquerade as other illnesses.
Lupus 101
It's an autoimmune disease, meaning the body cannot differentiate between its own healthy tissue and foreign invaders.  The antibodies or blood-borne proteins responsible for deciding biological friend from foe cause inflammation in various parts of the body. These problems tend to flare up and then abate over time.
It's especially common with women, who comprise nine out of 10 lupus patients, according to the National Institutes of Health.  (But men don't get off so easy — the ones who do get lupus tend to have more severe cases.)
"It's a very rough disease," says Naveed N. Masani, a nephrologist and the medical director of the outpatient dialysis unit of New York University's Winthrop Hospital. "You feel for these patients and what they go through.  It's not just the kidneys, but joint pain, rashes, fatigue. They feel lousy."
Lupus can also affect a patient's bone density, heart, liver, pancreas, and brain.
Lupus loves kidneys
"Lupus is the ultimate autoimmune disease," Masani says, adding that "60-90% of patients with the disease have kidney involvement."
The kidneys, Masani explains, "are kind of prime real estate, if you will, for the combination of your body attacking itself and the products they make. The kidneys are your filters. Every minute of the day, 100 drops of your blood pass through your kidneys to get cleaned."
In the case of lupus nephritis patients, he says, granola-shaped clumps of waste get stuck in the kidneys and accumulate, progressively damaging the kidneys.
Masani says it's not unusual for kidney function to decline to the point of needing dialysis or a transplant within a couple of years, as Gomez did.
"Depending on when patients get diagnosed and how bad things are, (kidneys) can deteriorate rapidly." But not always, he notes, adding that new medications have helped slow the decay and topple kidney failure as the leading cause of death for lupus patients.  (Now it's premature cardiac disease, he says.)
But they have to be able to tolerate those meds, Masani cautions. "They have a lot of side effects."
KEVIN HART
MULTI-MILLION DOLLAR EXTORTION DEMAND
FBI Has Suspect
(TMZ.COM)


Kevin Hart Victim of Multi-Million Dollar Extortion Demand in Sexually Suggestive Video
EXCLUSIVE
Kevin Hart was the victim in an extortion attempt to the tune of millions of dollars, and we're told the FBI is on the case and has a suspect.
Law enforcement sources tell us … an anonymous person contacted Kevin's camp and provided the video TMZ described Saturday … showing Kevin and a woman in a sexually provocative situation. The video then cuts to a bedroom where there appears to be sexual activity on a bed, although you don't see who is in the bed.
We're told the person demanded a multi-million dollar amount in return for keeping the video private. There were actually several demands, and at one point the amount hit 8 figures.
Our sources say The FBI knows who the woman is who interacted with Kevin, and they either believe she is the one who made the money demand … or someone who got hold of the iPhone that recorded the encounter made the demand. Either way, FBI agents think they know the identity of the culprit.
Sources close to Kevin will not say if he's the one in the bedroom, although they do say the woman who is on the various videos has had sexual relations with another celebrity — a TV star — and they believe he might be the one in the bedroom videos.
Our Kevin sources also say the videos were recorded on an iPhone that was propped against an object in the room and such recording without consent is illegal.
The city of Houston is now two centimeters lower because of torrential rains and floodwaters brought by Hurricane Harvey.
GPS data showed that America's fourth-largest city sank about three-quarters of an inch under the heavy weight of Harvey waters, according to Chris Milliner, a postdoctoral fellow at NASA's Jet Propulsion Laboratory at Caltech.
"This should be a temporary drop," Milliner told the Houston Chronicle in an email.
"Once floodwaters recede, we should expect a similar, but opposite elastic response of the crust, i.e., uplift. Similar to if you were to jump on-and-off your mattress."
Caitlyn Jenner wore a "Make America Great Again" hat after slamming Donald Trump's transgender military ban: http://eonli.ne/2wfsRpg 
HOW DO WE FEEL ABOUT THIS? SHOULD TRANSGENDERS BE ABLE TO ENLIST INTO THE WAR" AND WHY OR WHY NOT? -Ms. Pardon Me

R. Kelly & alleged victim release statements after "cult" allegations
(www.brooklynvegan.com)
Both R. Kelly and one of his alleged victims made statements denying allegations that Kelly is holding several women against their will in an "abusive cult." The allegations come from a disturbing report published Monday (7/17)on Buzzfeed from veteran music reporter/critic, Jim DeRogatis. In the report, DeRogatis spoke with families of alleged victims and former members of Kelly's "inner circle."
Three former members of Kelly's inner circle — Cheryl Mack, Kitti Jones, and Asante McGee — provided details supporting the parents' worst fears. They said six women live in properties rented by Kelly in Chicago and the Atlanta suburbs, and he controls every aspect of their lives: dictating what they eat, how they dress, when they bathe, when they sleep, and how they engage in sexual encounters that he records.
The former members of Kelly's inner circle provide chilling details about their experiences with life among Kelly's "babies," as they say he likes to call the women who live with him, including his control over every aspect of their lives, from what they wore to who they contacted, and even when they used the bathroom.
Mack, Jones, and McGee claim that women who live with Kelly, who he calls his "babies," are required to call him "Daddy" and must ask his permission to leave the Chicago recording studio or their assigned rooms in the "guest house" Kelly rents near his own rented mansion in suburban Atlanta. A black SUV with a burly driver behind the wheel is almost always parked outside both locations. Kelly confiscates the women's cell phones, they said, so they cannot contact their friends and family; he gives them new phones that they are only allowed to use to contact him or others with his permission. Kelly films his sexual activities, McGee and Jones said, and shows the videos to men in his circle.

Mack, the star's former personal assistant, said Kelly almost always tells the women to dress in jogging suits because "he doesn't want their figures to be exposed; he doesn't want them to look appealing." She said when other men are in the same room, Kelly "would make the girls turn around and face the wall in their jogging suits because he doesn't want them to be looked at by anyone else."
R Kelly made a statement yesterday in response to these allegations via his attorney Linda Mensch. It reads:
Mr. Robert Kelly is both alarmed and disturbed at the recent revelations attributed to him. Mr. Kelly unequivocally denies such allegations and will work diligently and forcibly to pursue his accusers and clear his name.
Jocelyn Savage, one of the women whose parents DeRogatis' report speaks with, released a video via TMZdenying that she's being held against her will.
I'm 21, I'm about to be 22 in a few days and I just mainly want to say that I am in a happy place with my life and I'm not being brainwashed or anything like that. It just came to a point where it definitely has got out of hand…I'm totally fine. I'm happy where I'm at and everything is OK with me.
She wouldn't answer questions about where she was living and if she had roommates, however.
These allegations are the latest in a long history of stories circulating around Kelly. Spin published a timeline of his "alleged sexual misconduct," beginning with his marriage to to the then-15 year old Aaliyah in 1994, and going on to detail various out of court settlements and the infamous "pee tape" in 2002. In 2013, Kelly headlined Pitchfork Festival, and later that year The Village Voice published the full, "stomach churning" accusations against Kelly. In 2015, Kelly stormed out of an interview with Huffington Post after being asked how sexual abuse allegations have affected sales of his latest album, The Buffet.
Jim DeRogatis has reported on allegations against Kelly for 16 years, and spoke with Slate after the Buzzfeed report was published. In that interview, he speaks about the challenges of getting a story like this one published, and goes back to the 2008 trial when Kelly was acquitted:
…it's very important to remember that he was acquitted by a jury of his peers but the trial never introduced any of the other evidence—the illegal marriage, the civil lawsuits by young women who said he abused his position and fame and influence to bully them into illegal sexual relationships. The one lawsuit that is mentioned in the story today—that girl slit her wrist after her relationship with Kelly ended. There have been more than a dozen settlements before a suit was ever formally filed. Susan Loggans, the attorney, would just go to Kelly and say, "Here are the accusations from my client," and he would pay them. This is a pattern of a quarter-century of behavior, in full view of the music industry and entertainment journalism.
WOMEN NEED TO STOP DOING THESE THINGS
By Joanne Rosa (wendyshow.com)
Ladies, we love you for who you are, and all of your quirks, but can we talk?
We keep seeing women do these things, and it's not OK. Seriously, it's not good for your well-being and it's not good for all of the women out there.
Stop doing these things and be the Wonder Woman we know you are!
Saying "sorry"
Arguably, this is the most common thing women do. Women are constantly saying they're "sorry" for things they shouldn't be sorry about! Things aren't always your fault, so there is no need to apologize. Plus, when you think about it, you can almost always replace the word "sorry" with "thank you." Instead of saying, "sorry for mishearing you," you could instead say "thank you for repeating that for me." You are still being polite, and you are not diminishing yourself.
Literally making yourself smaller
Speaking of diminishing yourself, change your body language. Why are women always making their presence smaller? One example we always see around the city is the subway scene. Guys (no, not all of you) man-spread their legs and over extend their arms, while women cross their legs and try to take up as little space as possible. Amy Cuddy said on a Ted Talk that women "chronically feel less powerful than men," and it's portrayed in our body language. When we make ourselves smaller, it determines how people can think of us. You deserve to be thought of as someone who is confident and powerful. Even if you don't feel like it's authentic, do it anyway, because people judge you based off of how you present yourself.
Underselling ourselves
Ladies, if you are happy, have a job and a roof over your head, let the world know! You are worthy of praise. Don't be afraid to toot your own horn. You don't have to tell someone your weekend was "fine," when it was actually amazing because you had a good review with your boss or a great visit with an old friend. Be your biggest fan and don't be afraid to brag about your accomplishments.
Putting other women down
Women are constantly putting down other women. Whether it's looks, career, or how they live their life, it seems that there is always a way to bring another woman down. Do the opposite. Even if we don't like what someone does, or are jealous of their career, or think that she is prettier that doesn't mean you should hate on them.
How do you empower yourself?
NBA Summer League Day 5 blog: Donovan Mitchell puts up highest point total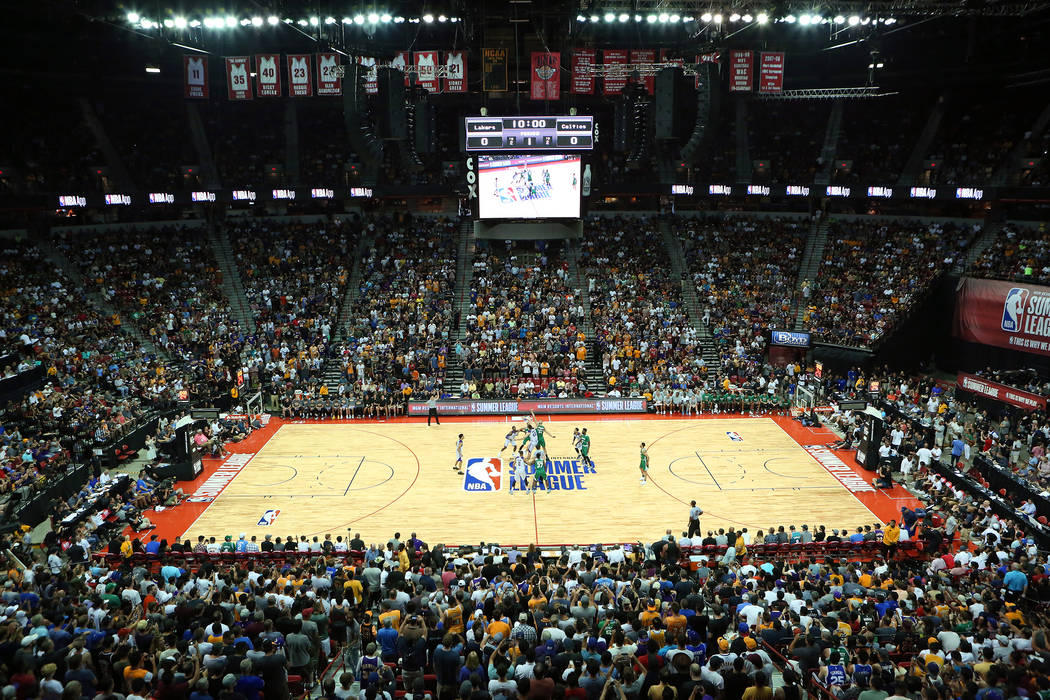 (reviewjournal.com/lasvegas)
5:25 p.m.: Donovan Mitchell puts up highest point total
Utah guard Donovan Mitchell hasn't been shy in asserting himself on offense in this year's NBA Summer League.
On Tuesday, the 13th overall pick brought his total shot attempts up to 50.
After two games.
Mitchell shot 10-for-24, including 3-for-10 from beyond the arc, and finished with 37 points in an overtime loss to the Memphis Grizzlies on Tuesday. It was the highest point total in this year's Summer League.
Mitchell, who was a one-and-done at Louisville, scored 19 points on 26 shot attempts on Saturday.
The NBA Summer League record is 47 points by Anthony Morrow in 2009.
— Ashton Ferguson
4:41 p.m.: Dillon Brooks has something to prove
As a second-round pick with arugably first-round talent, Dillon Brooks is back in Las Vegas with a point to prove.
"I belong in the NBA," Brooks said. "I've been working so hard to be a part of the NBA. I'm here right now, and I'm not going to waste this chance."
Brooks, a Findlay Prep product who played last season at Oregon, made 9 of 11 shots and scored 24 points to lead the Memphis Grizzlies to an 84-81 overtime victory over the Utah Jazz.
This was a breakout game for Brooks, who had scored a total of 12 points in the first two Las Vegas summer league games.
"I was staying aggressive," Brooks said. "I had a couple of turnovers at the beginning of the game. I didn't let it discourage me. I just kept playing. My teammates were finding me and got me my shots."
Second-round picks are far from guaranteed of making an NBA roster, so a performance like this one was especially important.
If nothing else, being at the NBA Summer League is a learning experience for Brooks.
"It's been a great experience overall just learning the speed," Brooks said. "You're playing against the best at this level, and then you're going to another level and playing against the best again. It's always being ready to try to be consistent. We stress defense first and offense second."
— Mark Anderson
3:35 p.m.: Rookie big man Caleb Swanigan steps up for Blazers
Portland Trail Blazers big man and Bishop Gorman graduate Zach Collins left Tuesday's game against the San Antonio Spurs in the second quarter with a quad injury.
Fellow rookie Caleb Swanigan made up for his abscence. And then some.
Swanigan, who was selected by Portland with the No. 26 overall pick in last month's draft, had 19 points and 13 rebounds in the Trail Blazers' 99-85 loss to the spurs.
The 6-foot-9 big man is averaging 15.7 points and 11 rebounds through three summer-league games, and is not fazed by the physicality at the professional level.
"Nothing changes for me … Don't think about it too much," Swanigan said. "Nobody knows every play right now … There's no scheme really. Just got to go out there and compete."
Swanigan, the reigning Big Ten Player of the Year, has used his chiseled frame to muster rebounds away from bigger players.
He's also showcased a soft touch around the basket and some agility on the perimeter.
"The biggest thing is just trusting myself," he said. "I've been practicing forever."
— Sam Gordon
3:14 p.m. Bryn Forbes continues to feast
San Antonio guard Bryn Forbes was a scoring machine last week in the Utah Summer League.
The second-year Michigan State product hasn't stopped in Las Vegas.
Forbes scored a game-high 35 points in the Spurs' 99-85 win over the Portland Trail Blazers in the opening game of the NBA Summer League in the Cox Pavilion on Tuesday afternoon.
"The game's getting a little simpler," said Forbes, 23. "I've been learning a lot. I've tried to work on my game in all different ways — watching film, doing this, doing that. Trying to get better in all ways, and it makes the game a little easier. It really does."
Forbes, who went undrafted in the 2016 draft, is leading all scorers in Las Vegas with 29.3 points per game through three games. He also led the Utah Summer League with 21.3 points a game.
"In some ways, yeah," Forbes said of exceeding his own expectations. "I just didn't really know what to expect from myself, but I knew I put in a lot of work. … I worked my ass off the whole summer. Playing with a great team like this and a great coaching staff, they make it easy to play well."
After scoring 35 points, Forbes now has the two highest single-game point totals in this year's Summer League. He put up 36 points in a win against the Phoenix Suns on Sunday.
"I don't think there (will be) a fall off," said Forbes, who averaged 7.9 minutes in 36 games for the Spurs last year. "This is all the work I've been putting in."
— Ashton Ferguson
1:46 p.m. Pat Connaughton exits game with injury
Portland Trail Blazers second-year guard Pat Connaughton went down with a left hamstring injury midway through the second quarter in the first game of the NBA Summer League in the Cox Pavilion on Tuesday.
The Notre Dame alum did not re-enter.
San Antonio leads Portland 54-41 at the break. Spurs guard Bryn Forbes, who went undrafted out of Michigan State in the 2016 draft, leads all scorers with 18 points.
— Ashton Ferguson
SUMMER LEAGUE KICK OFF IN FULL AFFECT!! LAS VEGAS ARE YOU READY?

They're fighting back.
It may amount to nothing in a year's time, but those who would challenge the Golden State Warriors in the Western Conference didn't sit on their hands and whine about how unfair the world was. And that set up what was an unexpectedly vigorous first week of free agency and trades — seven days that saw the West get even tougher, while the East's collective pulse was raised by a single move of significant talent in the other direction.
It was, also, a tribute to how spooked the rest of the league is by what Golden State has done, and has become, the last three seasons.
The status quo is now inoperative in the NBA. If you stand pat, you are falling behind, and fast. Player development of your own guys is still important in the cap era, to be sure. And it will be the only way the current have-nots in Brooklyn, Atlanta and other cities can to stay afloat the next couple of seasons. But the Warriors have four of the top 25 players in the league on their roster. For those teams looking to stay above water, talent acquisition is now paramount. The arms (and legs) race is on with no end in sight.
That said, the Rockets couldn't be satisfied with bringing back a 55-win team intact next season, with the runner-up for league MVP orchestrating a historic offense that was the living embodiment of the way Houston has wanted to play for years — 3-pointers, 3-pointers and more 3-pointers.
The Rockets traded for Chris Paul, and in doing so gave James Harden the help he didn't have in the playoffs this year . But they also embraced a player who's the master of the mid-range shot, which the Rockets have likened to fungal infections the last few years. (P.J. Tucker, signed for four years and $32 million last week, will ultimately take over the Trevor Ariza role in Houston.)
The San Antonio Spurs didn't sit on their hands and just report to camp with the same 61-win team from last season, with the league's best all-around player leading the way. So San Antonio, the kings of efficiency, signed up the very inefficient-but-nonetheless-talented Rudy Gay, who can help take some of the scoring load off of Kawhi Leonard.
And several non-playoff teams from last season bulked up in major ways.
The Minnesota Timberwolves weren't content with a slow and steady rebuild around its young emerging stars. It tilted the board by getting Jimmy Butler from Chicago on Draft night, then reaching deals with free agents Jeff Teague and Taj Gibson. That will bring some defense and toughness to a unit that was among the worst in the league last season at stopping people.
The Denver Nuggets added four-time All-Star Paul Millsap for three years and $90 million in what became a three-team deal, which sent Danilo Gallinari to the recalibrating LA Clippers, who got a bunch of solid players (Patrick Beverley, Lou Williams, Sam Dekker) from the Rockets in the Paul trade, then added one of the best point guards in the world outside of the NBA in 30-year-old Serbian Milos Telodosic.
Sacramento went the route of the late Flip Saunders in Minnesota a few years ago. Flip wanted to have vets at every position to mentor his young charges, which included a rookie Karl-Anthony Towns and a second-year Andrew Wiggins at the time. So he brought Kevin Garnett, Tayshaun Prince and Andre Miller in to school the youngsters.
The Kings have done the same this year, reportedly adding vets who still have tread on their tires. George Hill (three years, $57 million) will tutor first-round pick De'Aaron Fox at the point. Vince Carter (one year, $8 million) will be there for fellow first-rounder Justin Jackson. And Zach Randolph (two years, $20 million) will show second-year forward Skal Labissiere and the Kings' other young bigs how to play bully ball in the post.
And the Oklahoma City Thunder, a first-round team with reigning MVP Russell Westbrook, somehow got back in the game, for real for real.
A year after losing Kevin Durant to the Warriors, OKC somehow pulled off the next best thing, getting Paul George from the Indiana Pacers. It may be a one-year rental or it may be the catalyst to convince Westbrook to spend the rest of his career with the Thunder. Who knows? (Well, Westbrook does.) But it beat the alternative — sitting idly by while the rest of the West passed OKC by, like the denizens of Radiator Springs in Cars.OKC doubled up on its ante for '17-'18 by reportedly signing Patrick Patterson away from Toronto. The veteran power forward will start and will be another, better, pressure release than Westbrook had last season.
Details about Blac Chyna's attorney, Lisa Bloom
By R. Hawkins

(rollingout.com)
On Wednesday, Rob Kardashian sent the internet into a tizzy when he went on an explicit rant about his relationship with Blac Chyna, the mother of his infant daughter, Dream.
In addition to leaking nude pictures of his ex-fiancee, the KUTK reality star accused Chyna of stepping out on their relationship, drug use, and much more. While Chyna clapped back on Snapchat, alleging that Kardashian had "beat" her, she has since deleted the story.
Instead, on Friday, Chyna lawyered up and is reportedly headed to court to file a restraining order against her troubled ex. "I represent Blac Chyna. I just gave Rob Kardashian notice that we'll be in court Monday seeking restraining orders against him," attorney Lisa Bloom tweeted. "Mr. Kardashian, you are now on notice: revenge porn is illegal," Bloom continued in a statement. "Cyberbullying your ex is harassment."
So, what's next for Chyna and who is her high-powered attorney? Here's what we know.
She graduated from Yale:
Lisa Bloom, 55, attended the University of California, Los Angeles before trekking it to the East Coast, where she graduated from Yale Law School. She is the founder and managing partner of the Bloom Firm in LA. She is also licensed to practice in New York.
She comes from a long line of lawyers:
Bloom is the daughter of feminist attorney Gloria Allred, who is representing at least 28 women accusing Bill Cosby of sexual assault. She is also representing three women who accused President Donald Trump of sexual assault.
In 2013, Lisa's daughter, Sarah — a newly minted attorney — graduated from Fordham Law School.
She's got an impressive client list:
In addition to Chyna, Bloom represents Janice Dickinson, who claimed Cosby drugged and sexually assaulted her nearly three decades ago. She also represented Dr. Wendy Walsh, who publicly accused Bill O'Reilly of unwanted sexual advances and a woman who sued Trump for sexual harassment, alleging he groped her at a business dinner.
Most recently, Bloom represented comedian Kathy Griffin after she posted an ill-received image of a faux-bloody head of Trump, resulting in her dismissal from CNN.
In yet another revenge porn case, Bloom represented former "O.C." star Mischa Barton after an ex-boyfriend threatened to leak videos of them having sex. Bloom won the court case barring Barton's disgruntled ex from distributing their private sex tape.
As for why she chose to represent Chyna, she said in a statement:
She is "very proud" to represent the reality TV star, as she is standing up for her rights as a woman and a mother. "Chyna and I both believe this is an important women's rights issue," she wrote. "As too many women and girls have been slut-shamed by exes."
Hit the flip to read Bloom's statement in its entirety.
Carmelo Anthony is willing to leave New York. The Knicks are willing to trade him. But can anyone come up with an offer for Anthony that the Knicks are willing to accept?That's what several NBA front-office members were wondering Monday morning after ESPN's Adrian Wojnarowski reported Anthony is willing to waive his no-trade clause to join Houston or Cleveland.
"That's not an easy proposition for either team," one executive says about a possible Melo trade.
Here's why things are complicated: The Knicks have told people they don't want to take back older players on longer contracts in any transaction. At the same time, many in the organization feel it's best to trade Anthony. So that leaves New York in a tricky negotiating position.
So where could things go from here?
We asked ESPN front-office Insider Bobby Marks to help us sort through the parameters of a Carmelo deal and come up with a few plausible trades.
First, two factors to note:
 -At the moment, the Knicks are over the salary cap, so they'd have to take back $100,000 plus 125 percent of what they would send out in an Anthony trade. Of course, they could go under the cap if they renounced their rights to
Derrick Rose
($29.7 million) and
Sasha Vujacic
($1.4 million), moves that would create $16 million in space.
-Also, there's Anthony's trade kicker. Anthony has a 15 percent trade kicker that would add $8.1 million to his 2017-18 salary. That would bring Anthony's contract to $34.7 million, which is almost untradable.
Under the new CBA, however, Anthony can waive all or part of his trade kicker to help facilitate a deal. We saw this with Chris Paul recently when Paul reduced his kicker from $3.6 million to $600,000 to help complete the trade that sent him to Houston.
Damon Wayans Jr. Stirs Anger With 4th of July Joke About "Racist Ancestors"
by CORINNE HELLER
(eonline.com)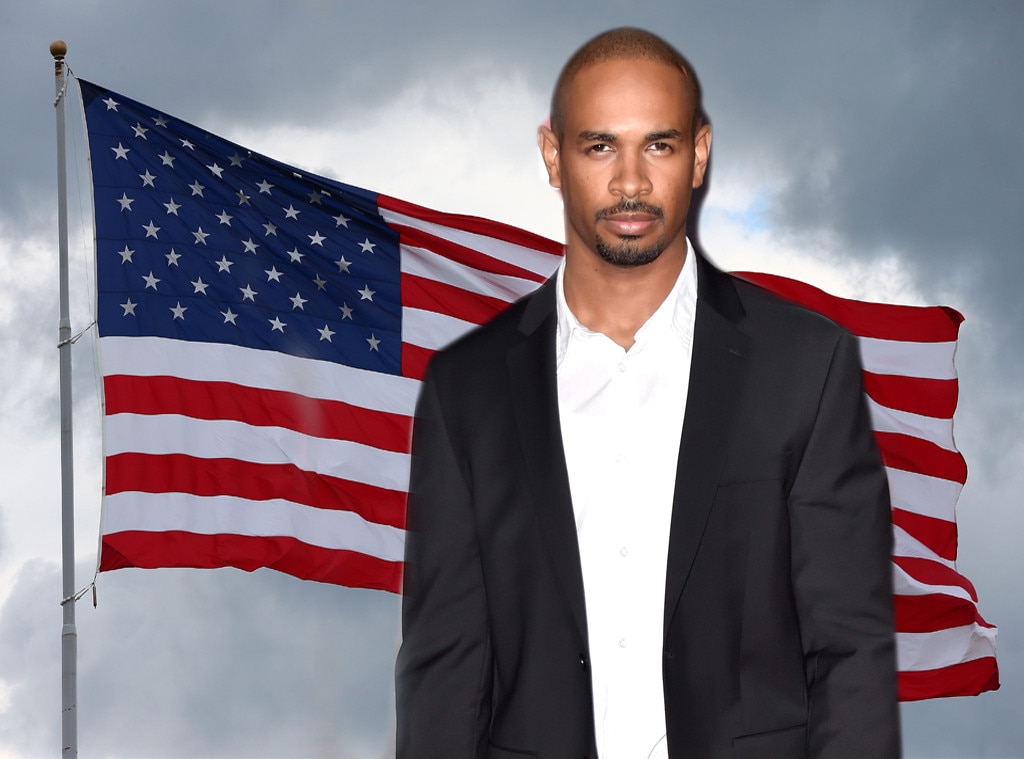 Damon Wayans Jr. stirred the wrath of many Twitter users when he made a joke about America's Independence Day.
The comedy actor and former New Girl star wrote on the Fourth of July, "Happy white people proud of their racist ancestors day."
More than 1,100 people liked the tweet, while more than 1,200 replied to it. And many were pretty angry.
"Just another example of Hollywood talking down to Americans. They hate this country & their fans. #FabricatedRacism sadly returns @wayansjr," replied user @ViperNTheTemple.
"A joke some took too personally. So what. Jokes aren't illegal," Wayans replied.
Many people definitely did not see his tweet as a joke."Not illegal, but offensive & hateful," wrote user @WTPatty."When I think of all the men and women who have died for our independence, laughter does not come to mind," wrote user @ricknjan."Unbelievable. You just live in the best country in the world. You should thank God that you live in America," user @jamesdudley45 said.Things also got personal."Enjoy what's left of your already s–tty career that your dad created for you," wrote user @JasonSMoonen."Thanks Jason 🙂 . Will do :)," Wayans replied.
"Yep, it was a joke," he told another critic. "But feel free to be offended by it. ;)"
ONE AIRLINE CONSIDERS GETTING RID OF SEATS & MAKING PEOPLE STAND INSTEAD
#Roommates, would you be down to stand during a flight for a cheaper ticket? That's the idea one budget airline is proposing.
According to reports, Colombian airline VivaColombia is considering removing all seats from their aircrafts to squeeze more passengers onboard. The thought process behind this? They believe it will lower the cost of flying.
"There are people out there right now researching whether you can fly standing up. We're very interested anything that makes travel less expensive," the company's founder and CEO William Shaw told the Miami Herald. "Who cares if you don't have an in-flight entertainment system for a one-hour flight?"
This is a bold move they are proposing. #Roomies, do you think an idea like this would work in the U.S?
TSR STAFF: Myeisha E.! @myeisha.essex on IG
(theshaderoom.com)
Janet Jackson Shows Off Weight Loss at Divorce Court With Estranged Husband Wissam Al Mana
Revenge body alert! Janet Jackson showed off her slim post-baby figure as she headed to court on Thursday, June 15, to begin divorce proceedings with her estranged husband, Wissam Al Mana.
The "Rhythm Nation" singer, 51, appeared to be in good spirits outside the Royal Courts of Justice in London. She flaunted her rumored 50-pound weight loss in a long, black cardigan, a white button-down shirt and black pants, wearing her hair in a topknot.
"Janet was in a great mood," an eyewitness told Entertainment Tonight, noting that Jackson spent approximately six hours inside the court. "She was happy and hugging and kissing her legal team as she left the courthouse. … Janet had about seven people in her entourage, including her brother Randy, her assistant and her legal team."
The Qatari billionaire businessman, meanwhile, exited the courthouse without an entourage. He was dressed in all black and appeared somber.
Jackson and Al Mana quietly married in 2012 and welcomed their son, Eissa, this past January. Three months after Eissa was born, Us Weekly confirmed that the couple had split.
Bloomberg says Trump should 'stop tweeting' and let Russia probe run its course
Staff Writer (yahoo.com/news)
Former New York City Mayor Michael Bloomberg has some advice for President Trump: Stop tweeting and do your job.
During a Tuesday evening appearance on CNN's "Anderson Cooper 360," Bloomberg was asked about the probe into whether the Trump campaign colluded with Russia to influence the 2016 presidential election. The inquiry has reportedly expanded to seek to determine whether Trump committed obstruction of justice by firing FBI Director James Comey.
Conceding he doesn't know "whether there's any there there," Bloomberg nonetheless praised the appointment of a special prosecutor to handle the investigation.
"When there's an allegation, you have to have a competent, independent investigation that will either find something wrong or remove the cloud," Bloomberg said.
"Having said that, the president just has to get it out of his mind, stop tweeting and focus on running the government and letting the investigation go on," he later added.
Trump has frequently utilized Twitter, his favorite communications medium, to attempt to delegitimize the Russia probe, repeatedly calling it a "witch hunt." Those angry missives intensified after the Washington Post reported the investigation would look into Trump's interactions with Comey before his firing.
But Trump has often faced blowback from his tweets, including one his lawyer tried to walk back in which Trump declared that he was "being investigated" for firing Comey.
Bloomberg, a billionaire who has made climate change one of his pet causes, was on CNN to promote a new documentary about the negative effects of coal. He called Trump's skepticism of climate change "just embarrassing" and said while the Trump administration's plan to withdraw from the Paris accord was not "a disaster for the world," it nevertheless makes America "look foolish."
Despite the barbs he slung at Trump, Bloomberg also called his former constituent "a very nice guy" (albeit one he doesn't believe is fit for the presidency), and was only lukewarm toward Trump's former opponent Hillary Clinton, despite speaking on her behalf at the Democratic National Convention.
Contending Clinton "would have been a decent president," Bloomberg said her messaging never provided a compelling rationale as to why she should be elected.
"It was, 'Don't vote for that guy,' and the gender issue," he said.
Mobb Deep Rapper Prodigy Dead at 42
Beloved New York MC was hospitalized days ago for complications related to sickle cell anemia
(rollingstone.com)
Prodigy, one-half of the seminal New York City hip-hop outfit Mobb Deep, died Tuesday at the age of 42. Mobb Deep's publicist confirmed the rapper's death in a statement to Rolling Stone.
"It is with extreme sadness and disbelief that we confirm the death of our dear friend Albert Johnson, better known to millions of fans as Prodigy of legendary NY rap duo Mobb Deep," the statement read. "Prodigy was hospitalized a few days ago in Vegas after a Mobb Deep performance for complications caused by a sickle cell anemia crisis. As most of his fans know, Prodigy battled the disease since birth. The exact causes of death have yet to be determined. We would like to thank everyone for respecting the family's privacy at this time."
On Instagram, Prodigy's longtime Mobb Deep partner, Havoc, posted twophotos in remembrance, one of which carried the simple message: "Forever."
Other members of the hip-hop community have also posted tributes to Prodigy online, including Nas, Lil Wayne, Ghostface Killah, Q-Tip, Method Man, Wiz Khalifa, Big Boi and Questlove.
Prodigy's old label boss, Steve Rifkind, who co-founded Loud Records, also remembered the rapper with a pair of posts onInstagram. "When I say Loud was a family, Loud was a family," he said. "We might have yelled and screamed at each other, but we always wanted what was best for the act … Mobb Deep was the second group to go platinum right after Wu. We not only talked music we talked about everything but all I can say right now is RIP."
Prodigy and his Mobb Deep cohort, Havoc, grew up together in Queens, New York City and broke into hip-hop with a raw, vivid and vicious distillation of East Coast gangsta rap. The pair released their first demo together in 1992 under the name Poetical Prophets, which they followed up a year later with their Mobb Deep debut, Juvenile Hell. While that record wasn't well received, their 1995 follow-up The Infamous, remains a hardcore NYC classic and features one of the group's signature songs, "Shook Ones Pt. II."
Prodigy and Havoc would release eight records together as Mobb Deep, with their last, The Infamous Mobb Deep, arriving in 2014.
In 2000, Prodigy launched his solo career with H.N.I.C. and would go on to release an array of solo records and mixtapes, as well as collaborations with producers such as the Alchemist and Big Twins and Un Pacino. In January, Prodigy released his last solo record, Hegelian Dialectic (The Book of Revelation).
Albert Johnson was born in 1974 to a family filled with musicians. His mother, Fatima Johnson – then known as Francis Collins – was once a member of the Sixties girl group the Crystals, while his grandfather, Budd Johnson was an acclaimed bebop saxophonist. Throughout his childhood, however, Johnson struggled with sickle cell and a father who was both a heroin addict and a petty thief. In his 2011 autobiography, My Infamous Life, Johnson recalled the time his father left him in the car while he robbed a jewelry store.
Growing up in New York City during hip-hop's Golden Age, Johnson eventually found his way to the mic in high school. Under the moniker Lord-T (the Golden Child), Johnson managed to score a demo deal at Jive records and earned himself a debut feature on Hi-Five's "Too Young," which appeared on the Boyz N the Hood soundtrack. Not long after, Johnson united with Kejuan "Havoc" Muchita, but when Jive wouldn't re-sign them as a duo, the pair struck out on their own.
By the time Mobb Deep released The Infamous, they'd signed to RCA and Rifkind and Rich Isaacson's formative hip-hop label, Loud, whose roster also included NYC stalwarts the Wu-Tang Clan, Big Pun and Dead Prez. Following the success of The Infamous, Mobb Deep continued to hone their hardcore hip-hop sound on a string of highly successful records, 1996's Hell On Earth, 1999's Murda Muzik, and 2001's Infamy.
During the Nineties, Mobb Deep also became embroiled in hip-hop's East Coast vs West Coast feud. Havoc and Prodigy guested on Capone-N-Noreaga's 1995 track, "L.A., L.A.," a response to Snoop Dogg and Tha Dogg Pound's "New York, New York," while the pair later became a frequent target for Tupac, who even called out Prodigy's sickle cell on anemia on "When We Ride On Our Enemies."
Mobb Deep's hot streak continued into the 2000s. The group eventually split from Loud and created their own label, Infamous, partnering with Jive for 2004's Amerikaz Nightmare and 50 Cent's G-Unit for 2006's Blood Money. However, the group's tear was cut short in October 2006 when Prodigy was arrested and charged with criminal possession of a weapon. Facing a mandatory sentence of 15 years, the rapper pleaded guilty and received three-and-a-half years in prison. He was released after three in March 2011 and remained on parole until 2014.
Upon his release, Prodigy published his autobiography and reunited with Havoc for a new Mobb Deep song, "Dog Shit," featuring Nas. But within a year, a rift between the longtime partners appeared when Havoc posted a series derogatory and homophobic messages about Prodigy on Twitter. WhileHavoc initially claimed that his account had been hacked, he ultimately admitted to sending the tweets during an interview with AllHipHop.com, where he also said Mobb Deep was going on "an indefinite hiatus."
While Havoc continued to call out Prodigy, even releasing the diss track"Separated (Real From the Fake)," Prodigy maintained that Mobb Deep would eventually reconcile their differences. And in 2013 they did, embarking on a tour to celebrate their 20th anniversary together. A year later, they released The Infamous Mobb Deep, which featured one disc of new material and another filled with unreleased tracks from their original Infamous sessions.
"Me and Hav got a different type of relationship man," Prodigy told MTV in 2013. "We been through a lot of stuff growing up, just personal stuff. When you dealing with somebody for that long every day, you're gonna have your little squabbles or whatever, it's nothing." He added: "The bottom line is we're smarter than all the BS. Way smarter than that. Trust me, we're still here for a reason, we ain't stupid."
Floyd Mayweather vs Conor McGregor date set for August 26: Full fight preview
The undefeated boxer Floyd Mayweather and two-weight UFC world champion Conor McGregor have agreed to a boxing match on August 26 in Las Vegas. The fight is expected to become the highest grossing event in the history of either sport.
The fight was confirmed on Wednesday evening, with McGregor tweeting "THE FIGHT IS ON," moments before Mayweather posted a short promotional video to his Instagram page, along with the caption "It's official".
Mayweather was immediately made the overwhelming favourite to win the fight by bookmakers across the world. He boasts a flawless professional record of 49-0, while McGregor has never previously been involved in a boxing match.
Negotiations for the fight have lasted longer than a year, with each man demanding upwards of $100m and insisting that they were the main draw.
The exact financial details of the fight have not been disclosed, but in a media call both parties insisted they were satisfied with how the negotiations had proceeded.
"Everybody is happy," Leonard Ellerbe, the CEO of Mayweather Promotions, said. "Nobody is bummed out about this deal," said Dana White, the president of the UFC. He later described the contest as "the biggest fight ever."
White went on to reveal a number of details about the potentially record-breaking fight, including that the 12-round contest would be held at the T-Mobile Arena in Las Vegas, with both men weighing in at 154 pounds.
Mayweather Promotions, rather than the UFC, will publicize the event, which will be available on Showtime pay-per-view in the United States. The PPV price is expected to cost in excess of $100.
"We're not only drawing from the universe of boxing fans and the universe of MMA fans, we've actually tapped into the audience that doesn't follow either sport," Showtime Sports executive vice president Stephen Espinoza said. "This is an unprecedented event."
McGregor will be looking to pull off one of the greatest upsets in the history of sport when he takes on Mayweather in his first professional boxing match.
Although the Irishman is a two-weight world champion in the sport of mixed martial arts, he has not boxed competitively since the age of 16, when he was an All-Ireland champion at youth level.
In contrast, Mayweather is widely regarded as one of the best defensive boxers to have ever lived.
He has been knocked to the canvas just once in his 21-year professional career – in a fight he would come back to win via a unanimous decision – and possesses the highest average punch connect rate of any active fighter, according to the respected computerized scoring system CompuBox.
Should he defeat McGregor, he will move ahead of former heavyweight great Rocky Marciano, who also retired with a perfect 49-0 career record.
Here, we preview every element of the contest dubbed 'the billion-dollar fight'.
Where will the fight take place?
Mayweather Promotions have reportedly reserved the T-Mobile Arena for the superfight.
(for more visit Yahoo Sports)
Has Cultural Appropriation Become A Problem Among Celebrities?
Is race really a conversation we have to have nowadays?
(THEHOLLYWOODUNLOCKED.COM)
Kim Kardashian is not the first, nor is she the last celebrity to be accused of cultural appropriation.
Just the other day, we talked about Kim being accused of trying to rock blackface for her new ad tied with her upcoming beauty launch.
However, what was not talked about are the various other celebrities who have been accused of cultural appropriation.
Before we begin, let's get technical for a second.
The legal definition of cultural appropriation is, "the act of taking or using things from a culture that is not your own, especially without showing that you understand or respect this culture."
This has been a problem for years, going back to the actual use of blackface in Hollywood.
In industries like fashion, beauty, and more, some feel that it has grown to be a major problem.
Trends like cornrows, hair extensions, long fingernails, and so much more have been exploited for pleasure.
Dr. Akil Houston, a cultural and media studies scholar in Ohio University's African American Studies Department, says, "Black women are often demonized, caricatured, and body-shamed for their hair, styles of clothing, and cultural production, like dance or vernacular."
She continues, "However, when a white woman adopts similar styles or the same, they are celebrated by mainstream culture in ways that black women are not."
In the past few months, designers like Marc Jacobs, who had models wear cornrows, and Gucci, who featured an all-black cast for a shoot, are two of many that have come under fire.
Awhile back, former Fashion Police host, Giuliana Rancic, was blasted with backlash after a negative comment that she made about actress Zendaya having dreadlocks.
But let's not just comment on one culture that has fallen victim of misrepresentation.
The LBGT community, the Hispanic community, Native American community, Asian community, and more are also being used as a form of costume.
It has long been said that Halloween is a major holiday where culture and race are tested.
Costumes that represent culture and race are seen flying off the shelves.
"When one engages in the use of another's culture it should include respectful citational celebration," Houston explains.
"Just like you would credit the original author of a written piece or music composition, one should credit a culture whose work serves as an inspiration or canvas from which one draws on."
Celebrities often wear a style, and now, all of a sudden, have created the "new look."
While celebrities are not doing anything on purpose, there still seems to be a request to draw a line.
Here are 10 celebrities who have been accused of misrepresenting a culture!
1-Selena Gomez – Bollywood inspired performance at the 2013 MTV Movie awards
2-Katy Perry – Powered face and geisha costume at the 2013 AMA's
3-Miley Cyrus –  2013 video for black culture reference with the grill and hand gestures
4-Kylie Jenner- Cornrows on instagram
5-Beyoncé – portraying a simplified version of India complete with traditional Indian dress and henna.
6-Khloé Kardashian – Bantu Knots on instagram
7-Marc Jacobs – Spring 2017 fashion show with wool dreadlocks.
8-Karlie Kloss –  Walked the 2012 Victoria's Secret runway wearing a headdress, leather underwear, and moccasin heels.
9-Vanessa Hutchins – Wore an Individual braids wig on snapchat
10-Gwen Stefani – Wore a Native American headers on a 2016 episode of The Voice 
Chrissy Teigen Will Never Do 'Doggy Style' Again After John Legend Revealed This One Thing
(usmagazine,com)
"John and I had a double date, and we were joking around, and I go, 'John's never seen my butthole.' And John says, 'Are you kidding? Every time anyone does anything doggy style, you see a butthole. I see it every time.' I was like, 'We are never doing it doggy style again,'" Teigen revealed to the magazine.
The Sports Illustrated swimsuit model, who shares daughter Luna, 14 months, with Legend, also discussed more serious matters, including whether she wants more kids.
"I would definitely adopt or have foster children," she dished. "But I loved being pregnant. Maybe I should be scared [of having postpartum depression again], but I don't know. It couldn't be any worse than it was – could it?"
A woman who was traveling from Dallas to Minneapolis on an American Airlines flight died halfway while in the air. Unfortunately, she was shown with the least respect as reports say her lifeless body was dragged down the aisle while about 150 passengers looked on.
According to the NY Post, Theresa Hines was only 48 years old and was traveling alone when she collapsed in the bathroom mid-flight. After about 30 minutes, passengers recognized she was missing during the routine landing procedures and alerted the crew. A few minutes later after staff repeatedly knocked on the bathroom door, they called for paramedics. Paramedics tried to perform CPR, but it was a little bit too late.
Passengers then say, staff removed Theresa's lifeless body from the bathroom and dragged it down the aisle in front of roughly 152 passengers.
Shortly after her death, the airlines released a statement saying "We are deeply saddened by this event and our thoughts and prayers go out to our passenger's loved ones,"
(theshaderoom,com)
DeMario Jackson Issues Statement on Bachelor in Paradise: My Character Has Been Assassinated
DeMario Jackson is speaking out about Bachelor in Paradise's scandal.
Following production being shut down on the ABC reality spinoff's fourth season due to "allegations of misconduct," DeMario, one of the contestants at the center of the incident under investigation, is breaking his silence in an exclusive statement provided to E! News.
"It's unfortunate that my character and family name has been assassinated this past week with false claims and malicious allegations," the 30-year-old said in a statement via his publicist, Eve Sarkisyan-Nunn. "I will be taking swift and appropriate legal action until my name is cleared and, per the advice of legal counsel, will be seeking all available remedies entitled to me under the laws."
On June 11, Warner Bros. confirmed to E! News that production had been shut down on the Mexico set of Bachelor in Paradise after a producer filed a complaint questioning whether Corinne was able to give consent for a sexual encounter with DeMario.Multiple sources tell E! News the producer was not on set when the incident occurred, and had not seen the footage before filing the complaint, with one source close to production revealing a second producer also filed a complaint. Our sources also say neither DeMario or Corinne have seen the footage.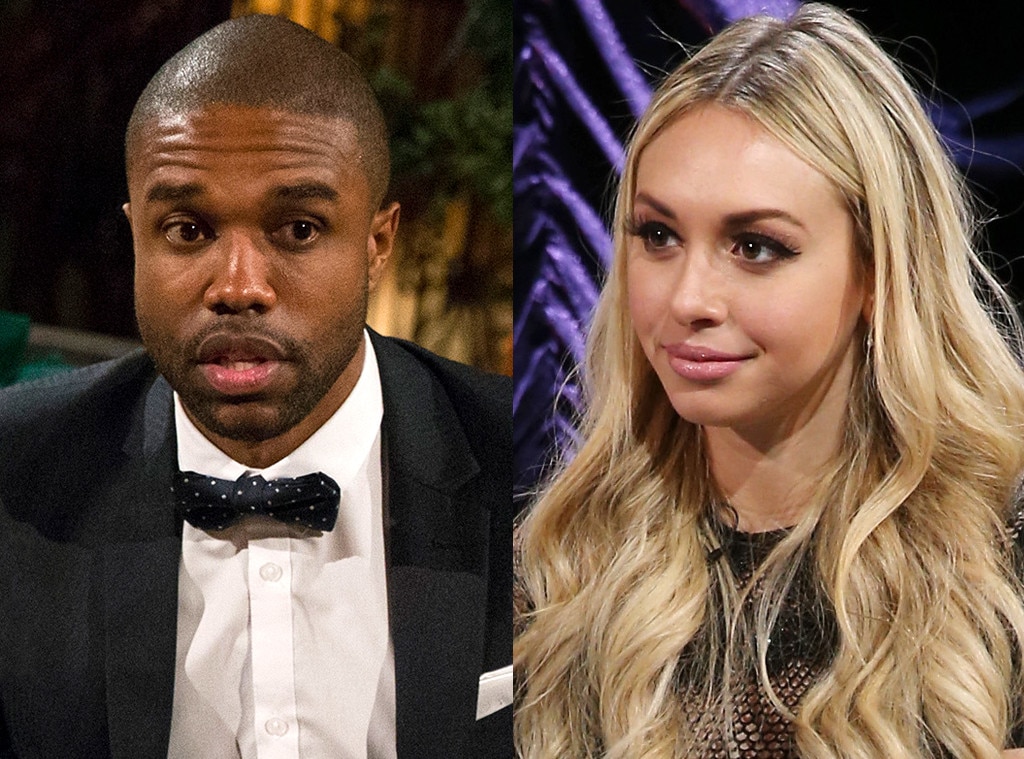 (enews.com)
ABC, Getty Images
Earlier today, Corinne broke her silence, issuing a statement about the after hiring high-powered Hollywood attorney, Marty Singer."I am a victim and have spent the last week trying to make sense of what happened the night of June 4," she said. "Although I have little memory of that night, something bad obviously took place, which I understand is why production on the show has now been suspended and a producer on the show has filed a complaint against the production."

Corinne's statement continued, "As a woman, this is my worst nightmare and it has now become my reality. As I pursue the details and facts surrounding that night and the immediate days after, I have retained a group of professionals to ensure that what happened on June 4 comes to light and I can continue my life, including hiring an attorney to obtain justice and seeking therapy to begin dealing with the physical and emotional trauma stemming from that evening."Warner Bros. issued a statement about their investigation into the allegations, saying, "We have become aware of allegations of misconduct on the set of Bachelor in Paradise in Mexico. We have suspended production and we are conducting a thorough investigation of these allegations. Once the investigation is complete, we will take appropriate responsive action."

The frabchise's longtime host Chris Harrison also weighed in on the controversy, issuing his own statement to Good Morning America on Tuesday."Warner Bros. is handling the investigation. They're moving quickly to gather all the facts, and once that's done a clear concise decision can be made about where we go from here," he said.Warner Bros. has yet to finish their investigation.
Amber Rose Posted a Picture of Her Bush Online, and Instagram Took It Down
If you don't follow Amber Rose on Instagram, you probably missed a seriously fire picture she posted on Friday. Rose uploaded an image of herself dramatically posing on a wooden staircase. She's clad in a bikini top, fur coat, sunglasses, and choker necklace. Her nails are painted a striking shade of red, and she's covered in oil. Oh yeah, and she's not wearing any pants (or underpants).
Rose posted the bottomless photo to promote the upcoming third annual SlutWalk—a march Rose organizes to protest rape culture, victim blaming, sexual assault, and slut shaming. The picture was only up for two hours before Instagram took it down. But not to worry—Rose responded by uploading a selfie video and putting the photo up on Twitter instead. "When Instagram deletes your fire ass feminist post, but you really don't give a f*ck because everyone picked it up already," she wrote in the caption on her video.
Though Rose clearly violated Instagram's guidelines by posting a vulva-revealing picture on the site, it's funny that an image of a woman and her so-called "private parts" still sends the online world into a state of disarray. The picture was a great one—and we love to see Rose embracing her natural pubic hair with the hashtag #bringbackthebush. This goes without saying, but women should be allowed to do whatever they want with their pubic hair (groom it, wax it,leave it be, etc). And if they want to showcase their bush in a killer picture, why not?
As always, Rose is the hero (and general icon) we need and deserve. To learn more about her SlutWalk, visit amberroseslutwalk.com.